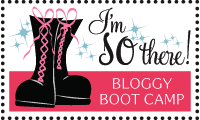 By this time tomorrow I'll be well on my way to Philly for
Bloggy Boot Camp
.  I don't have any close friends going to this conference so I'm a little nervous.  I'm rooming with two other women bloggers (possibly 3).  Strangers…but no worries…that's how all friendships start.
I'm excited to learn a ton.  I feel like this blog is finally looking professional, I have ad space available, so now it's time to really build my readership and tweak my marketing skills.  I'm looking forward to being inspired and meeting some wonderful new writers.
I can't wait to see Scary Mommy and the Nap Warden again.  I even bought Jill's book so she can sign it!